Conservation and Sustainabilty
The aim of our life and our business is to leave as small a footprint as possible, to cherish the world around us and tread softly.
We are committed  to working  within the accepted parameters of Sustainable Tourism, and in many cases we go even further.
Responsible waste handling

Conscientious use of our natural resources
Avoidance, where possible, of purchasing waste producing, non-reusable or recyclable products such as styrofoam containers for take-out meals, personal sized juice boxes, personal size shampoo bottles, etc.

Ethical wildlife observation practices

Minimal light and sound pollution

Using creative low impact alternatives for pest control

Minimal fossil fuel use-our electricity is provided by solar energy

Hiring and training only local people

Encouraging young people in our community to get involved in natural history oriented activities
Sharing and teaching the concepts of ecologically friendly practices to the local community and our employees

Spreading the economic benefits of our business throughout our community by purchasing local products and services.
A great part of who we are, as a lodge, is our insistence on demonstrating that it is possible to live without public power, fossil fuel generators and hydro power.  With a few changes in habits, it is not that hard to do and has little effect on the comfort and ease of life.
Unfortunately, although Costa Rica uses less fossil fuel driven power than much of the world, it does use more and more with the increased technology and living standard. Additionally, ecologically sensitive rivers are being
dammed for hydro power and huge wind farms, which cause a threat to migrating birds, are popping up everywhere.  Small hydro plants such as those used by many lodges,  usually require the removal of water from a stream for at least a couple of hundred meters.  Many times it is not possible to return the water to the same stream.  We are still debating the use of a hydro plant but it would effect a stream with an endangered and endemic poison dart frog in residence.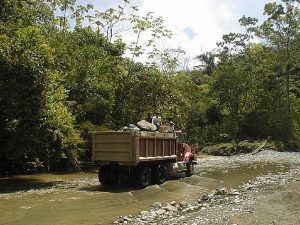 The Old Dos Brazos 1993-2001
When I arrived on the Osa just over 2 decades ago, the national forests were still being treated as exploitation zones.  Huge logging trucks were seen on every back road, new logging roads were being cut through the forests, large machinery was seen regularly in the rivers extracting rock, gravel or logs from way up river.  Every full moon one would hear hunting dogs on the hillsides and see poachers on horses loaded with heavy sacks of bush meat.  Hydro pumps washed soil from riversides and streams edges in search of easy gold. There was even still some heavy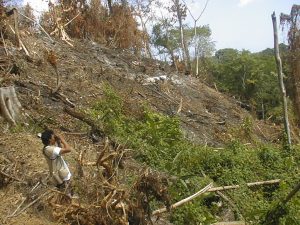 equipment, mechanical gold-mining operations going on.  Many of these practices were technically illegal but the power to enforce some of our very good laws was non-existent.
In Dos Brazos, I doubt anyone had ever heard of conservation, much less cared or understood the concepts or reasons.  The small village was quite removed from the rest of the developing world. A trip to town involved a 14 kilometer walk or horse ride. Sometimes there was a jeep or cattle truck that would be jammed with town residents for the long bumpy ride. There was only one television in town with poor reception.  No one had electricity.  The socially accepted way to dispose of trash was to put it along the river bank to be washed away on a high river!  Dead batteries were tossed in the river by residents walking home at night.
But all that has changed with dedicated help from many different individuals and organizations.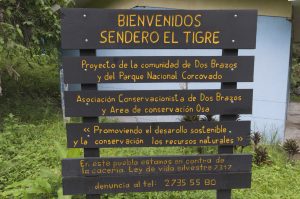 The process was a bit slow but not bad considering it has been only a bit more than 20 years.  Now the community has many naturalist guides and many residents appreciate and encourage conservation practices, the community runs the local National Park office and maintains the trails, hunters are now park guards, almost no one litters, a logging truck or machinery in the river would be an extremely rare sight. The Reserva Forestal Golfo Dulce (our national forest) is now treated as a protection zone.
We hope that our many contributions during our early years helped.  We used as many village products and services as possible purchased from as many different sources as possible.
We soon suggested that trash should not go to the river…..mentioning that travelers did not like this practice.
Abraham started a local bird club and was amazed how quickly the young ones learned to ID birds and use scope and binoculars.
School children were taken on natural history trips to other locations on the Osa.  It was rewarding to observe children marveling at their first sight of a dolphin!
Community litter pick up days were started and sponsored by our lodge
We both worked closely with university people who were doing studies to demonstrate the problems with the local resource management practices and to improve the laws, often providing free hospitality.
Liz spent much time in the local offices of MINAE (the environmental ministry) meeting with other conservationists and the directors of MINAE, was elected to a community organization working with MINAE, stood in front of large machinery entering the river and refused to let them work illegally, stopped logging trucks and asked to see permits, argued in town meetings against destructive projects.
Abraham was a volunteer park guard and quietly policed our area to help stop the poaching and illegal logging.
When several properties in our river valley, previously owned by destruction oriented folk, were up for sale, we arranged for them to be purchased by conservation minded friends or past guests.   At the moment, close to 100 hectares of property along our river valley are in the hands of conservationists.
The New Dos Brazos.  National Park trail built and managed by the community, many young people out birding and enjoying the natural world, rivers free of machines and trucks, forests protected and past cuts reforested.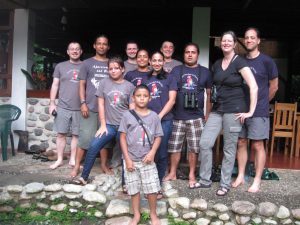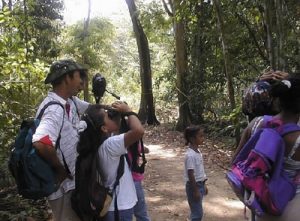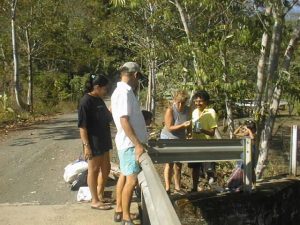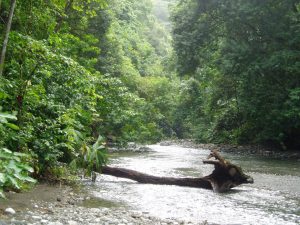 Past Conservation Projects
Forest restoration of a part of our property that was destroyed by mining
Purchase of a recently clear cut property for restoration
Planting of native and endangered tree and plant species
Reviewing logging plans (in cooperation with MINAE) and inspecting the properties for irregularities
Offering financial benefit to those who see and do not kill the rare local species of Bushmaster to prevent the population decline of these snakes.
Working with a community based campaign to stop the "rubber stamping" of gravel mining concessions on the Osa rivers.  There were once 16 concessions in the approval process covering just about all, and all of, the eastern slope rivers on the Osa.
Sponsoring the yearly local Audubon Christmas Bird Count in the Dos Brazos area
The first distribution, habitat and resource use study on three of our most endangered and endemic bird species.
Ongoing Work
The Osa is still threatened, now by unsustainable development, as well as, but to a lesser degree, by the old problems of resource extraction.
Although we are less active politically, than we were in the past, we still help out when needed and continue to encourage  the young to participate in volunteer monitoring, bird counts, and conservation projects.  Fortunately there are now other conservation minded folks with fresh energy and good educations, doing great work to preserve the Osa Peninsula.
A BIG thanks to them all.