Grab Your binoculars and cameras and let's go
The wilderness of the Osa Peninsula is waiting for you.
"Our favorite occupation is introducing folks to the diversity and beauty of the rain forest."
We offer guided tours customized to your interests and time. Planning some time  with an experienced guide and naturalist, is highly recommended to enrich your rain forest experience.
We want to show you one of the most beautiful and bio-diverse places on earth.
There are a wealth of trails to choose from covering a wide variety of terrain and habitats. Excursions can be made locally in the Reserva Forestal Golfo Dulce (the equivalent to the US National Forests), Parque Nacional Corcovado or our private reserve as well as to other points of interest on The Osa Peninsula. We make a point of using the less traveled trails so you may experience the rainforest in the most natural and wild state. In addition to hiking, birding, general nature and medicinal plant walks, and night walks,  other activities include: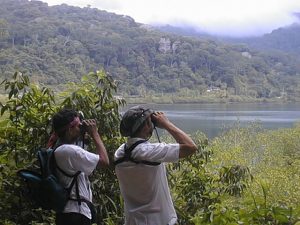 recreational gold panning, swimming in the river, and mangrove kayaking. We can also arrange trips to a botanical garden, tree climbing, waterfall repelling, canopy tours, dolphin watching and guided trips to other areas on the Osa.
Anyone can take advantage of our guiding services whether they are a guest of the lodge or staying at another facility on the Osa, but availability is limited in the busier months.
For more information on our guides and guiding policy, please see the Guiding page. The Guided Excursions page has a complete list of activities and rates.
Popular Excursions
The Río Pizote is a small river surrounded by mountains with a great variety of forest, both old-growth and secondary growth. This hike is a great introduction to the diversity of habitats existing on the peninsula and can be a half-day or full day trip. It's a good choice for one person or an entire family.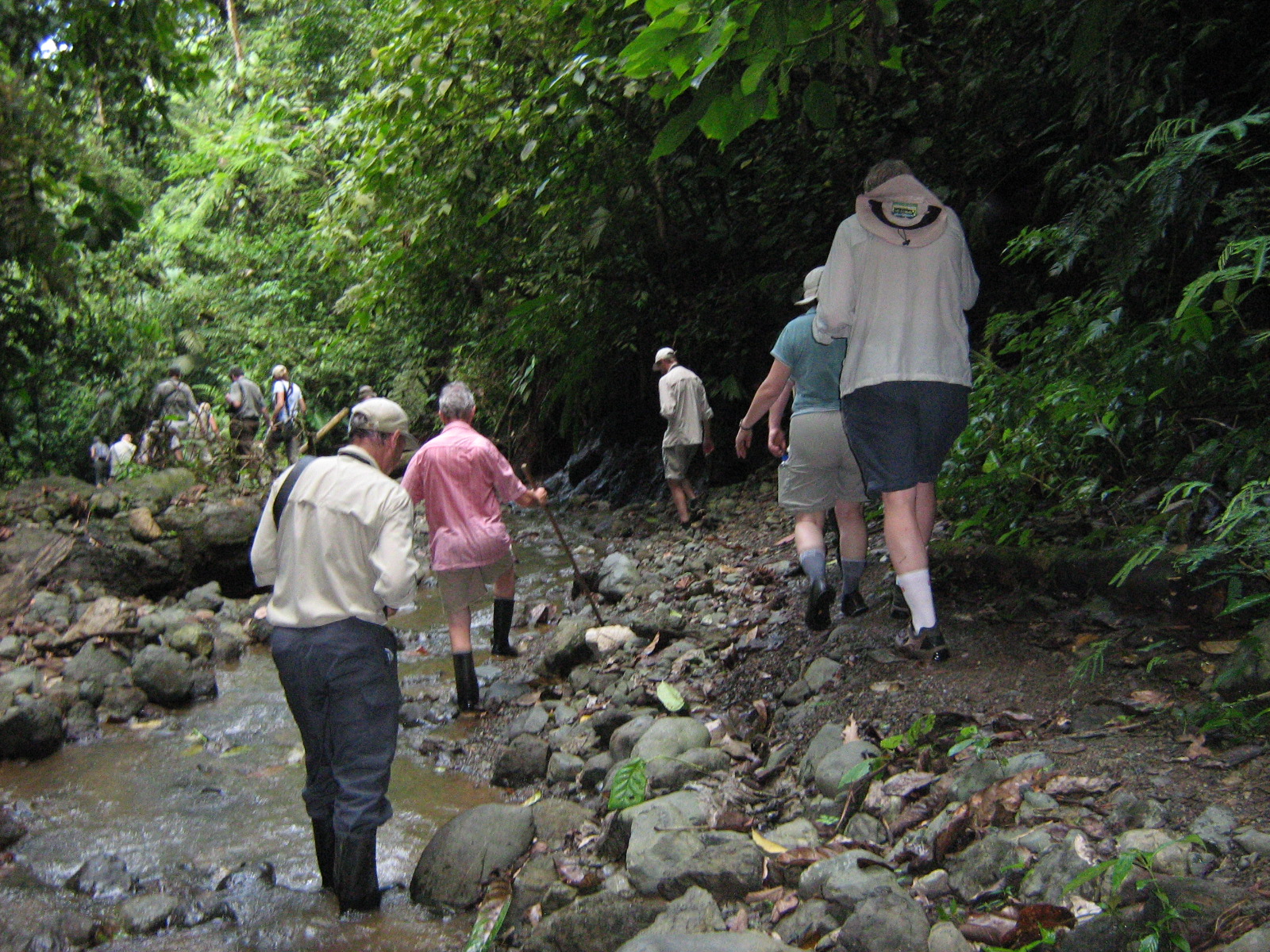 The one way  hike to Carate is another popular trip, passing the small, mountain gold mining town of Piedras Blancas. This is a beautiful 7 to 8 hour hike through mostly primary forest in and on the edges of Corcovado Park.  This hike is only for very physically fit individuals. Return taxi to Puerto Jimenéz is variable. Minimum of two people is required. There is now a collective taxi which lowers the cost of the return transport substantially. Please ask if you are interested.
Sendero El Tigre is the new official trail  into Corcovado National Park starting only 1/2 km from the lodge.  It is a fairly long, steep hike through beautiful forest and involves about 6-7 hours.
Other parts of the Osa
The taxi trip to the Monkey Beach with our driver/guide is a great option for those who want to see lots of monkeys with little effort. There will be stops along the way at lagoons and mangroves to check for caiman and crocodile as well as some water birds.
A day trip to La Leona/Carate will give you a great over view of the peninsula's terrain.  Driving towards Carate, you will pass the small town of Puerto Jimenez, fields, forests, the point of the peninsula (the Monkey beach), a large lake, and  great views of the Golfo Dulce and Pacific Ocean.  After driving, you will walk along the pristine sand beach and in the scrubby beach forests, for several kilometers to the Rio Madrigal where sometimes, during the rainier seasons one can encounter the Tapir.
Multi day hike in Corcovado
You can set up a hike to the Sirena Ranger station.  Preferably for at least 2 nights.  Please read the Commonly Asked Questions page for more info on the station and the park. These hikes involve long days of over 18 km hiking with no option to stop overnight on the way.  But the fruits of the hike are well worth it.  This is the only spot in the park you will be sure to see several larger species that exist but are not easily found in other locations. There are bathrooms and showers but no cabins. Camping is allowed on one of several sleeping  platforms, where everyone hangs nets or puts up a tent. A guide is required and our guides have stoves, nets and sheets. Food service is limited and no cooking is permitted except for boiling water.  Booking is complicated due to the fact that meals and accommodations can not be booked more than 1 month in advance.
Explore on your own
Thankfully due to the geography of the area and the fact that we are in the national forest, there are many directions to explore.
The 6 trails on the lodge property are a mix of old growth and secondary growth forest. They are each no more than 400 meters long, negotiable , and extremely diverse in wildlife and habitat .  They connect to a wider horse trail that goes clear to the center of the peninsula. Off our property but locally, one can walk up or down our river for several kilometers or another river just 1/4 mile from here.
Trails and difficulty
The Osa Peninsula is fairly new, geologically speaking, being one of the last land masses to rise off the ocean floor.  Therefore the mountainous terrain is a bit steep and rugged.  Trails on the Osa Peninsula run from moderately easy to difficult.  On our property the trails are groomed a bit and present moderate, fairly short  inclines.  We have a couple of short trails suited to those who cannot handle anything but fairly flat terrain. Additionally, walking the rivers or small unpaved roads is a great option.