What is the weather like May-August? Isn't it hot?
Our area on the Peninsula de Osa tends to be cooler than it is in the majority of the north-east of the USA, That's all I have to compare it to. 84 degrees would be about as hot as it will get during the day and 72-74 degrees, at night. It is humid, though. Because of the short days, 12 hours, and the light afternoon overcast, the earth never really has a chance to heat up. This season is sort of like the northern fall for us, a bit variable. It is the start of the rainy season but there are many days without rain and when it does rain it is usually only for a short while, maybe 1/2 hr.- 3 hrs. We can have all night rains. The mornings are usually sunny and cool and the afternoons can have either a light overcast, a drizzle or a short rain. It can rain all day but that is very unusual. May and June tend to have a bit more rain than July and August and sometime during these months will be a two or three week period of pure sunshine. Those sunny days may be a bit warmer but it will never feel like Washington DC, NY or New Jersey in the summer!
This is my most favorite time of year. The vegetation is very green and "alive" and the wildlife tends to be more active than in the dry season or the extreme rainy season which is usually one of the months of September, October or November. It's a great time for frog hunting, hiking and generally relaxing. Rarely are a days activities halted due to rain.
The only warning is that every few years we have heavy rains for a few days during this time period. If this should happen while you are here, transportation may slow down and some places may become inaccessible. In our case, our river can get to high to cross comfortably, although it's only for a day or two. If you can hike, there is suspension bridge about 500 meters from the lodge and we will arrange porters for your baggage. If you cannot handle the walk, we will arrange for another comparable lodge in the forest for you to stay and we will come and guide you. I can think of only one time this has happened in the last 25 years!
Can I get to Corcovado National Park from the lodge and what is the difference between your area and Corcovado National Park?
Getting to Corcovado Park: First, I want to explain some things. The Park itself is about 40,000 hectares and is surrounded by the equivalent of a National Forest containing 68,000 hectares. Our place is in the National Forest, Reserva Forestal Golfo Dulce. The boundary of the park is 1-3 kilometers in several directions from our place, accessible by trails.
One official park entrance is easily accessible by car but there is still 3 km to hike before actually entering the park. This entrance is called La Leona and is approx. a 2 hr drive to the end of the road (where the trail starts) from our place. The area around this park entrance is mostly beach/secondary forest with some trails (often closed) into the slightly higher elevations and older forest. They probably have more visible monkeys there than we do but other than that, the wildlife is the same. The forests near our place are equal or better in wildlife and diversity.
There is an entrance near La Palma, a 40 minute drive from here, which can be accessed by a long hike up the Rio Rincon or with a 4×4 in the dry season. The drive up the river is about 45 minutes to an hour. There is still some hiking to reach the park border once you leave the river valley but the area is beautiful if you are up for the hike.
Another entrance, heavily used, is accessible from Drakes Bay area. This is either by boat or a hike.
There is now a new entrance in Dos Brazos, our village. This trail does not connect with the other trails. It is a fairly hard and steep hike. It has wonderful scenery with a good amount of old growth forest although the scenery is not much different than what you would see outside of the park in the national forest.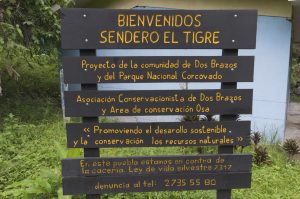 The real draw of the park is the Sirena Ranger Station, which is an all day hike (one direction) from La Leona or a ~2 hour boat ride from Puerto Jimenez. The highlight of a trip to Sirena is the possible sighting of Tapirs, but not guaranteed. Also larger birds, sharks and plenty of monkeys.
Unless you plan on going to Sirena, there is little difference between our area and the park entrance areas. If you like hiking, there is a beautiful, but difficult, trail that goes through the park leaving from our place and ending in Carate, but entering the Park proper is not necessary. There is plenty of forest on the peninsula. Practically the whole peninsula is forested with many trails. .
If you decide not to go to the Park proper, and you want to see lots of monkeys, we can take you to a beach area about 45 min. away by car where there are large troops, very visible. If you use your car we would only charge you the guiding fee or we could give you directions. Updated info is that during the slightly wetter times we are seeing all species of monkeys close to the house regularly.
Can I fly to the Osa the same day as I arrive in San Jose?
This is easy in the dry season when there are several afternoon flights but during the "Green Season" the last flight is at 1:00 pm. Unless your international flight arrives before 11:00 am or 11:30 am, it could be difficult to get this flight. Returning is much easier. You can fly out the same day if you book the 7:00 am flights from Puerto Jimenez and your international flight doesn't leave until late morning. During the "green season' you would want to leave more room for error. Weather does effect flight schedules.
What foot wear will I need?
Please read What to Bring.