Travel Information
After arrival in San Jose or Puerto Jimenez, our location offers travelers the fastest way to get into the forests of the Osa Peninsula.
Getting there is half the fun, right?
In recent years there have been many improvements to the road systems across Costa Rica and particularly in the southern zone. Getting to Bosque del Rio Tigre is easier than ever. One can drive, fly or take the scenic, but slow, bus route. Connections with other locations in the southern zone are easy once you get here. There are public passenger ferries that cross the gulf and the road from the mainland to Puerto Jimenez is well paved. There is one regular airline, Sansa, and a few charter companies that offer flights throughout most of the day to just about all destinations in Costa Rica.
We can help you arrange your transportation from any destination with almost any mode of transportation.
For those with a GPS, our coordinates are lat. 8.52164, long. -83.4001
Flying
There is one major local airline with flights to Puerto Jimenez, Sansa. You can book them on-line through flysansa.com. If booking yourself, you need to be aware that baggage limits may be different with various fares. Remember to check the cost of extra baggage. Also make sure the taxes and fuel surcharges are included in the rate.
Buses, shuttles and boats
There are public buses running all over the country, as well as some shuttle services between the most popular travel destinations. The buses can be slow, and for tall travelers, may be short on knee/leg room. The bus ride from San Jose to Puerto Jimenez is about 8 hours and to Golfito ( across the gulf from us) , about 6.5 hours. Planning a bus trip during holidays is not recommended since Ticos ( locals) travel a lot during the holidays and often one waits a couple of days for a ticket. If you end up in Golfito, there are passenger ferries, running throughout the day and private water taxis for about $90-110, one way. At the moment, I do not think there is a consistently running shuttle service from other destinations to Puerto Jimenez,.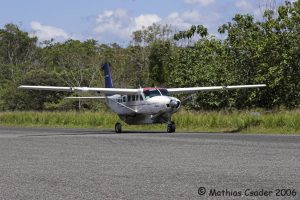 Private Charters
There are some private charter companies working in Costa Rica that can fly into Puerto Jimenez. Since COVID, so much has changed that we are not up on who and who is not operating.
Taxi Transfers to the lodge
We can arrange for a taxi to meet you at the local airport on arrival and drop you off on departure. The cost is $70 round trip plus IVA (sales tax). During the busier months we do need to arrange taxis well in advance to assure the best quality of car and driver so please let us know your flight schedule as soon as possible.
Taxi transfers to and from other locations
We have great taxi drivers, often with interest in birds and wildlife, and we regularly arrange transportation from other locations in Costa Rica to our lodge. The taxis can pick you up or drop you off at just about any location. Please write us for rates.
Driving and Car Rental
Driving from San Jose to the Peninsula de Osa is now an easy, relaxing drive if you take the new expressway from San Jose to the coastal road just west of Orotina.
Driving can be a good way to see a bit more of the country but it does take a bit of time and patience, especially on mountain routes. One needs to be aware that some drivers ignore many of the basic traffic laws such as running stop signs and passing on curves or hills. Signage is better than it used to be but still lacking in some areas.
Although not absolutely necessary, a 4×4 is a good option. There are dirt roads leading to many interesting places that are slow and tedious to negotiate with a low clearance vehicle. Occasionally, on a narrow road with an accident, the 4×4 gives you an option of driving around the accident. To drive the last 150 meters to our lodge, through the river valley, a 4×4 is probably best in dry season and necessary in the rainier months. We do have parking (next to an occupied house) on the other side of the river.
There are several car rental agencies in the country with offices on the peninsula giving the traveler extra options. You can fly here and then rent a car, or drive here and fly back. There are drop off fees, but they are often waived for longer term rentals. If you would like we can set up your rental. We have regularly booked guest's rentals for many years and have never had any issues with the company we use.