Surroundings
Mountain rivers, forested streams, waterfalls, dynamic forests and mountain views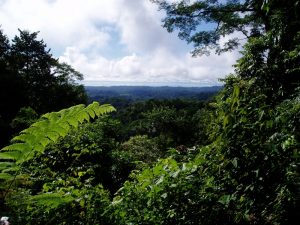 Whether taking a long hike, a short walk or just sitting around, one is overwhelmed by the visual beauty and a sense of the unknown. The two river valleys of the local region provide breathtaking views of forested slopes leading up to the towering emergent trees framing the skies above. The rivers fed by many narrow streams change at every corner. There are peaceful eddies overhung with rich vegetation, cascades and rapids, deep swimming holes and calm slower moving, sandy bottom areas. Many types of forest are within a short distance walk.
The physical character of the area is so varied it will be hard to describe. Immediately around the lodge on three sides, only meters away, is groomed secondary forest attracting all type of forest dwellers. The front yard has a mix of small forest patches, natural gardens and the left branch of the Rio Tigre (Tiger River), one of the largest watersheds on the Osa. Between 100-300 meters from the main lodge there is a 50 ft. waterfall, two small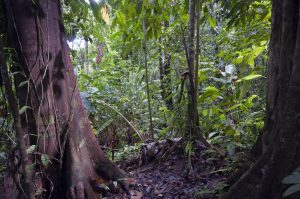 streams darkened by lush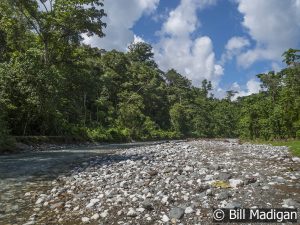 vegetation on the steep sides, two lagoons with caimans, turtles and nesting birds, several forest swamps and a wide old growth forest that acts as a wildlife corridor. Within this 300 meter radius all the large mammal species of the Osa have been observed at some point. Further away, but less than a kilometer from the lodge, is a small village with gardens and vacant scrubby lots. In other directions are pasture and scrub land, a great specimen primary ridge forest with many of the huge tree species, and a fantastic cascade, small gorge and boulder-sided swimming hole surrounded by old growth forest.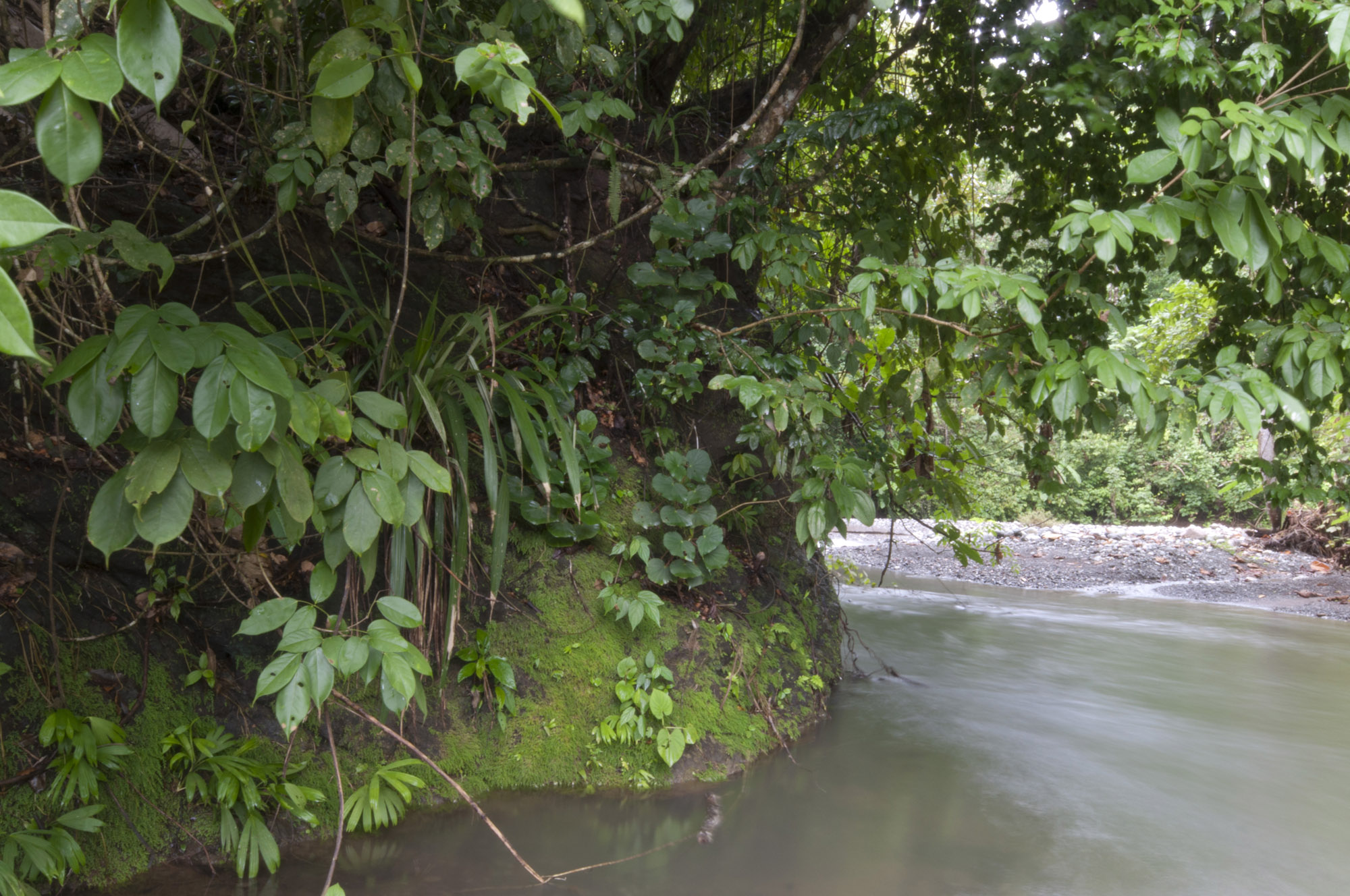 Not 50 meters from the lodge there is a great pool for cooling off during the quiet hours of the day.  Take a chair to the river and sit and read under the shade of the hanging vegetation or immerse yourself and watch the birds building nests along the banks.
Late afternoon is a great time to walk up river and enjoy the river breezes, fantastic scenery and after a short kilometer walk, you will come upon a swimming hole which competes with the best in the country.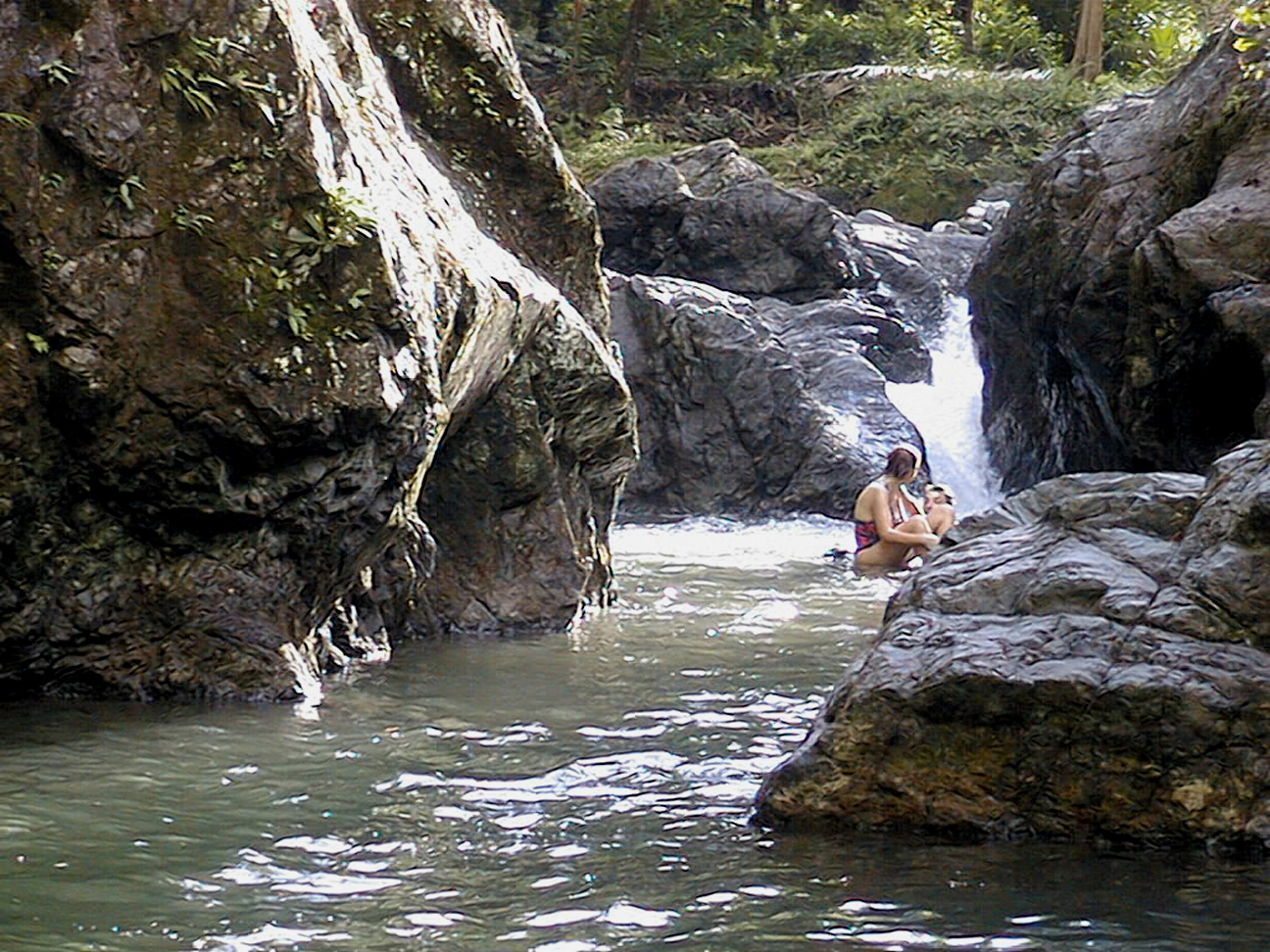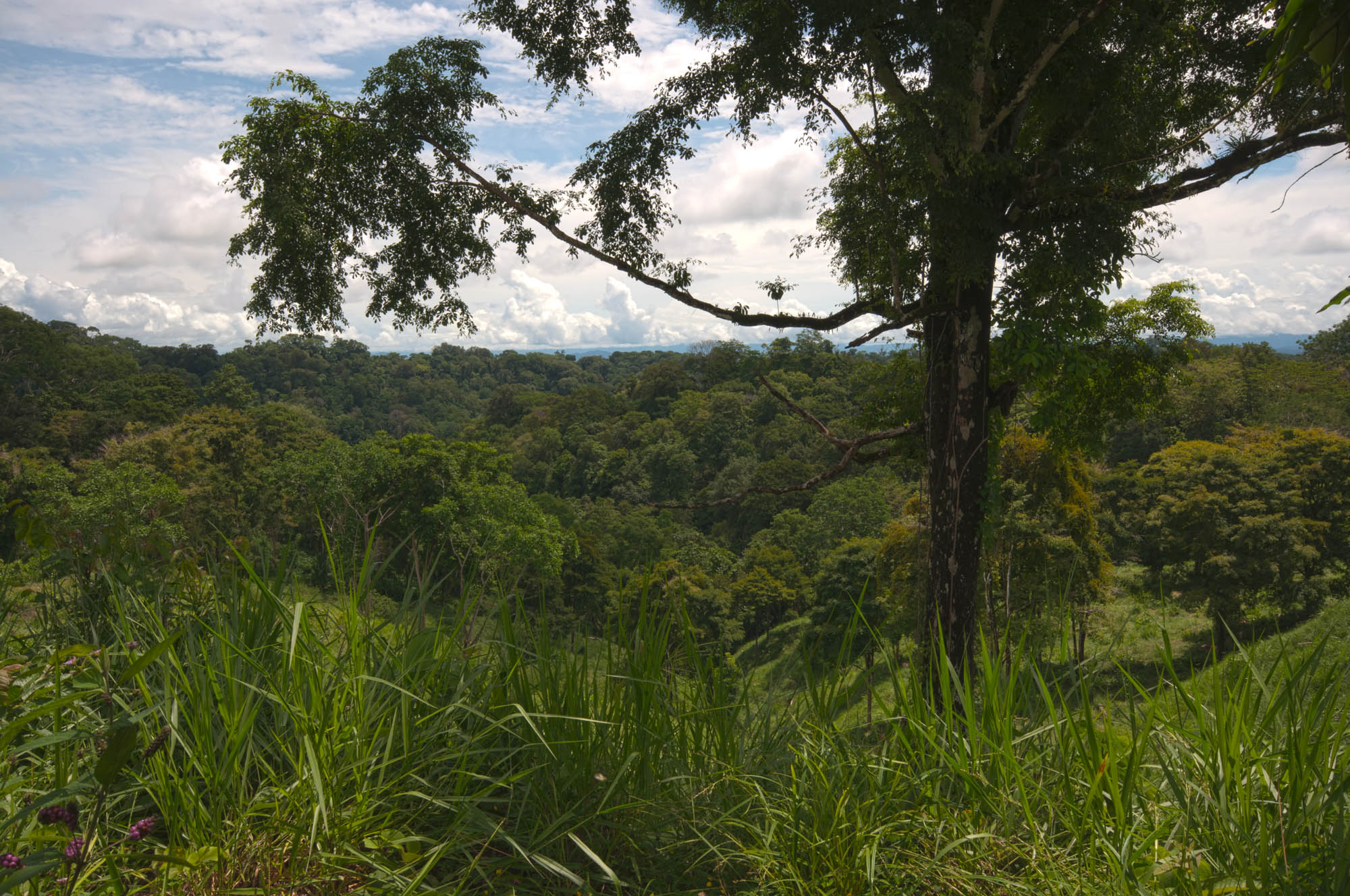 Our 31 acre forest preserve has both secondary and old-growth forest and fronts the river for about 500 meters.  We have 6 connected trails behind the lodge and a wider public horse trail that goes clear to the middle of the peninsula, offering a variety of views of both extensive forest, the Golfo Dulce and the coastal plain. The two lagoons, less than 300 meters from the lodge, add greatly to the forest diversity. The lagoons are particularly exciting at night.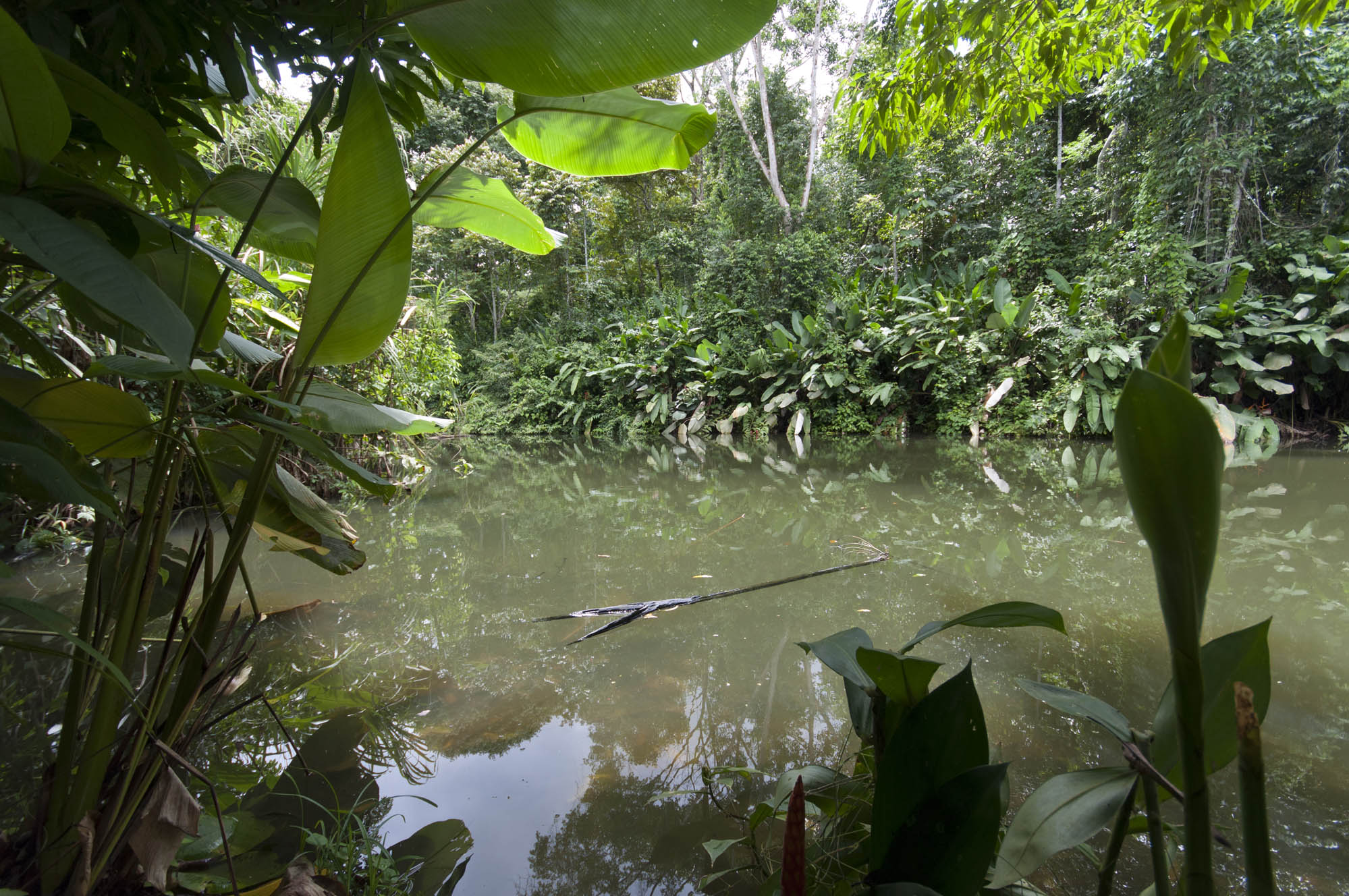 There are two small streams close to the lodge both hosting the endemic and endangered Golfo Dulce Poison Dart Frog.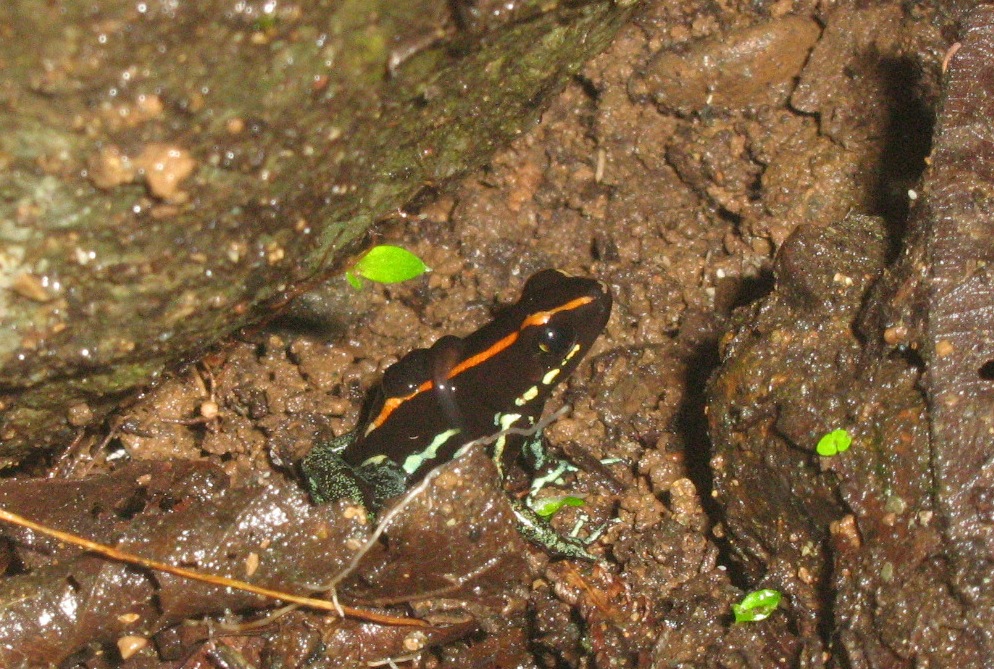 One of the streams, has a 50″ waterfall surrounded by a basalt canyon with the rainforest giants (trees) on the upper edge of the canyon.