Meals
Creatively prepared with care, using only the freshest ingredients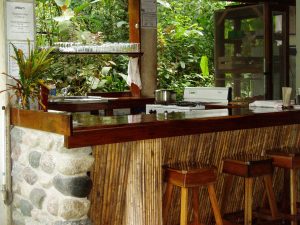 We've worked hard to develop and maintain a reputation for some of the best food in Costa Rica.  Our staff prides themselves in perfect dishes and perfect presentation. Meals are not only delicious, but generous and healthy.  In addition to three meals a day, we serve a pre-breakfast snack of coffee and banana bread. After dinner you will be treated to one of our homemade desserts and herbal tea, often from our own garden.
All of us enjoy the pre-dinner hour, a great time to get to know each other and discuss the days events while watching Abraham and his staff prepare a fabulous meal.
If  you go out on a day trip, or an early morning half day hike, we will provide a packed breakfast or lunch.  We try to coordinate meal times with guest's activities and timing.  Although meal times can be flexible, typically we start the day with some coffee and banana bread, enjoy a cool morning activity and return for a full breakfast around 9 am.  Lunch is usually served between 12 and 1 pm and dinner is almost always at 6:30, giving everyone time to get back from their afternoon activities and relax a little before dining.
Breakfast
Our breakfast chefs are the best.  All breakfasts come with beautiful plates of tropical fruits, fresh sqeezed orange juice, Costa Rican French-pressed coffee and toasted homemade bread served with homemade banana marmalade.
Some of our egg dishes include omelets made with homemade tomato salsa and cheese , eggs scrambled with bacon,  and a spinach frittata.
The traditional Costa Rican breakfast would always include gallo pinto, a mix of rice, beans, a little onion and red pepper and occasionally other spices.  Since we ARE in Costa Rica, gallo pinto usually accompanies our breakfasts.
Lunch
We tend to do light lunches due to the warm climate.  Some of our favorites lunch dishes are:
Our special tuna salad with shredded carrots and light curry, either in a sandwich served with a small salad or in a large salad
Chicken burritos with onions, peppers, a light spread of refried beans and a touch of cheese
Summer garlic pasta topped with shredded farmer's cheese and chopped tomatoes
Abraham's coconut milk seafood soup.  This soup is absolutely fabulous!
Candlelit dinners are very special at Bosque del Rio Tigre.  A great way to end the day, dining by candlelight with new found friends, talking over the day's discoveries.  Abraham takes over the kitchen and works his culinary magic.  Some of his special creations include:
Baked chicken breast with mango chutney,
Rosemary marinated roast pork served with sautéed mushrooms,
Mahi-mahi baked to perfection topped with onions and red pepper and a touch of lemon,
Coconut encrusted sautéed shrimp.
Tenderloin roasted with butter and black pepper
Guests rave about Abraham's ginger and soy marinated tuna steaks, curries, and special sauces.
Some offerings for vegetarians are: a tasty zucchini, tomato and cheese casserole, stuffed  and baked portabella mushrooms, vegetable curry  or a spinach mushroom frittata.
All dinners are served with fresh fruit juice, one or two vegetables, a creative and variable dinner salad, homemade bread accompanied by rosemary-infused olive oil and one of our numerous potato or rice dishes.  We serve  potatoes, mashed, roasted with spices, and au gratin. The kitchen serves either traditional rice or rice pilaf made with nuts, carrots, onions, peppers and garlic.
Desserts may include: brownie topped with ice cream, mango crisp, baked rice pudding, carrot cake, caramelized pineapple topped with ice cream, all served with our natural caffeine free teas.