About Us, Our History and Vision
What makes Bosque del Rio Tigre different?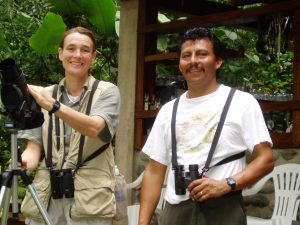 There are few, if any, other lodges on the Osa Peninsula in Costa Rica run by naturalists. And no other lodge with our small capacity offering a high level of personal service, excellent meals, super clean accommodations and top-notch guiding. .
When I first traveled in Costa Rica, I longed for a small, quiet place to stay in the forest. Where I could wake up, step outside and be in the wilderness. Where someone would teach me about my surroundings without having to book a formal tour, often with many participants. And when booking a forest walk, to have a truly knowledgeable personal guide.
Abraham and I, discovered that we both loved teaching others about the local natural history, but back in the pre-internet days, one would need an office in town to get guiding work. Not an appealing idea. So we decided to build a small lodge/research station so we could guide the guests and learn from the researchers. We formally opened in Feb. 1998, and it sort of worked out as we imagined. We had many researchers from local and foreign universities working or visiting here. Many were kind enough to take us out with them and share their knowledge with me, Abraham and our guests . We managed to build up a good library of neotropical natural history reference volumes. Over the years, we personally filled in some gaps of missing local knowledge. We have found several species not previously known on the Osa, Abraham has found two bird nests never before documented and we spent two years doing the first serious work on 3 endangered and range restricted bird species. Two of our projects have been published in professional journals. More information may be found on our Conservation page.
We liked the small, personal venue of our lodge and decided to retain that feel despite the growing trend on the Osa towards grand resort-like rainforest lodges (complete with pools and spas) accommodating 30+ guests. Tour companies were continuously asking us when we would build more rooms. The idea of spreading out, taking up more forest space, running tons of PVC plumbing in the ground, interfering with the current lodge views, guest's privacy and animal traffic patterns, just did not appeal to us. Although well worth the effort to give guests the experience of actually living in the forest, we quickly realized that maintenance, with the forest so close, was a major job. Daily and thorough cleaning is necessary to retain a beautiful visual appeal and a super clean lodge. Most of the slow season is spent varnishing, painting, and replacing wood attacked by various forms of termite. The end of the story is that although we really only wanted to guide, and learn all we could about the natural history of the area, it turned out the lodge is the bigger part of the job. Such is life in paradise!